MiniBuses For Sale
Open Search Form
You can always find a great choice of used minibuses for sale at Bus & Coach Buyer online. Minibuses and mini coaches are advertised by dealers and directly by minibus operators. From a basic school minibus to luxury mini coaches with full leather seating, climate control and entertainment systems there are minibus conversions from all major manufacturers including the popular Mercedes Sprinters and Ford Transits.
Search for Used Minibuses
If you are thinking about buying a used minibus, browse these specialist pages and please remember to mention Bus & Coach Buyer when responding to advertisements.
Showing 31-31 of 31 results
Sold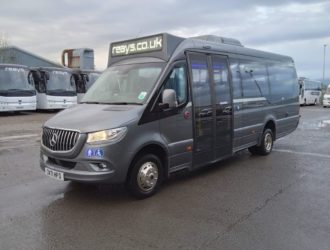 351 total views, 1 today
£92,950
2021 (71) Mercedes Benz Sprinter 0.516 CDi Ilesbus I-City 20 Seat PSVAR Compliant Seat Belted Service Bus DOFR: 01.09.2021 MOT: 31.08.2022 Mileage: 24749 kms / 16089 kms / 26954 k...
View Details